ZUCCHINI PARMESAN CRISPS
Tuesday, January 28th, 2014 at 3:31 pm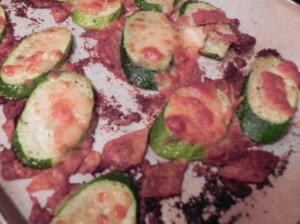 Cooking Spray
2 Medium Zucchini (about 1 pound)
1 Tablespoon Olive Oil
1/4 Cup Grated Parmesan Cheese (3/4 pound)
1/4 Cup Dry Bread Crumbs
1/8 teaspoon Salt
Freshly Ground Pepper
Preheat Oven to 450 degrees.  Coat a baking sheet with cooking spray.
Slice the zucchini into 1/4 inch rounds—In a bowl toss with olive oil.
In another bowl, combine parmesan, bread crumbs, salt and pepper.
Dip each round into the Parmesan mixture, pressing mixture to stick on both sides. Place on baking sheet.
Bake Zucchini rounds until browned and crisp–about 25-30 minutes.  Serve immediately.
In Categories : ALL NEW Recipes • Side Dishes • Vegetarian
Like this post? Subscribe to my RSS feed and get loads more!

Print This