TART – LIME CURD
Monday, December 13th, 2010 at 11:10 pm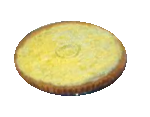 Serves : 8
Ingredients
1/2 cup               Fresh lime juice (4 limes) and zest
1  1/2 cups         sugar
1/4 lb                  unsalted butter, room temperature
4                           extra large eggs, room temperature
1/8 teaspoon      salt
1 x 10″                baked tart shell, or five 4 1/2″ shells, see TART SHELL recipe
Remove the Zest of 4 limes with a vegetable peeler or zester, being careful to avoid the white pith. Squeeze the limes to make a 1/2 cup of juice and set aside. Put the zest in a food processor fitted with a steel blade. Add the sugar and process for 2-3 minutes, until the zest is very finely minced. In the bowl of an electric mixer fitted with paddle attachment, cream the butter with the sugar and the lime zest. Add the eggs, one at a time, and then add the lime juice and salt. Mix until combined.
Pour the mixture into a 2 quart saucepan, and cook over a low heat, stirring constantly, until thickened, about 10 minutes. The lime curd will thicken at about 175 degrees, or just below a simmer. Remove from the heat and set aside.
Fill the tart shell with warm lime curd and  allow to set at room temperature.
NOTES : You might be tempted to eat this lime curd right out of the pan, before it makes it to the tart shell !! It keeps in the fridge for weeks. Try it on a piece of toast, or as a dip for long stemmed strawberries. This tart was dessert for the annual 4th July Brunch at Terry and Lyle's. The morning began at 8.30, with quick breads and coffee at their cottage. The cottage they rent is across the gulch from us, at the edge of a pineapple field. After the snack, we car pooled up to the Makawao Rodeo Parade. The parade itself was pretty good, but the local enthusiasm was really fun to see. After the parade we were back to Haiku and were served mimosas while waiting for lasagna to heat as our main course. There were eight of us, and everyone brought a dish to share. Theresa made her CABBAGE SALAD which is also on this website. The morning was absolutely beautiful, the best of Haiku weather.
In Categories : ALL OLD Recipes • Pies
Like this post? Subscribe to my RSS feed and get loads more!

Print This