RASPBERRY – CREME FRAICHE TART
Thursday, December 16th, 2010 at 8:45 pm
Serves : 8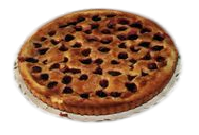 Ingredients
2 cups                         fresh raspberries
3/4 cup                      sugar
+2 tablespoons        sugar
1/4 teaspoon            salt
4 large                       eggs
1 teaspoon                vanilla extract
1 cup                          flour
3/4 cup                     creme fraiche
1/2 cup                      unsalted butter at room temperature
For Serving

+                             powdered sugar (optional)
Place baking sheet in bottom of oven. Preheat oven to 375 degrees F. Wrap outside of a 11″ diameter tart pan with removable bottom with foil. Using electric mixer, beat butter, 1/2 cup sugar, and salt in a large bowl, until blended. Add 3 eggs and 1/2 tsp. vanilla beat until smooth. Add flour, beat just until blended. Spread batter over bottom  and 1/2″ up the sides of the pan. Beat 1/4 cup of sugar, 1 egg, 1/2 teaspoon vanilla and creme fraiche in a bowl until well blended. Spread the custard over batter. Arrange berries 1/4 " apart atop custard. Sprinkle tart with 2 tablespoons of sugar.
Bake tart until set and brown around the edges, about 45 minutes. Cool.
Remove pan sides. Place tart on platter. Dust with powdered sugar, if desired.
NOTES : Tart can be made 1 day ahead. Cover loosely with foil and chill. Serve at room temperature.
Creme fraiche is available at some supermarkets. If unavailable, heat 1 cup whipping cream to lukewarm (85 degrees). Remove from heat. mix in 2 tablespoons buttermilk. Cover, let stand in warm draft-free area until slightly thickened, 24-48 hours, depending on room temperature. Chill
This is a very easy recipe, and looks great when freshly baked. The berries may react with the bottom of the tart pan if left on too long.
I  served this tart after dinner with whipped cream and a raspberry sauce. It would be a great cake as is, with coffee or tea in the morning.
In Categories : ALL OLD Recipes • Cakes
Like this post? Subscribe to my RSS feed and get loads more!

Print This