FRICASSEE OF CHICKEN WITH WINTER VEGETABLES
Monday, December 6th, 2010 at 9:28 pm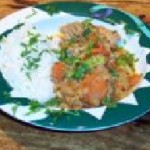 Serves : 6
Ingredients
12                                     Skinless Chicken Thighs
3 tablespoons                olive oil
3 cups                              sliced leeks, white and pale parts only
2 cups                              chopped peeled parsnips
3 cups                              thinly sliced carrot
2 tablespoons                thinly sliced garlic
3 cups                              low salt chicken broth
1 cup                                dry white wine
2 teaspoons                    dried oregano
1 teaspoon                      dried fennel seed, optional
1/8 teaspoon                  dried crushed red pepper
For the Garnish

Chopped fresh parsley
Grated lemon peel
Sprinkle the chicken with salt and pepper.
Heat 2 tablespoons oil in a large heavy pot over a medium heat. Add 1/2 of the chicken, brown on all sides for about 8 minutes. Transfer to a plate, and repeat with the rest of the chicken. Discard drippings from the pot.
Heat 1 tablespoon oil in the same pot over a medium heat. Add leeks, parsnips, carrots and garlic. Saute until the vegetables are tender and beginning to brown, about 6 minutes. Add broth, wine, oregano, fennel seed, and red pepper. Bring to a simmer. Stirring to deglaze all the browned bits from the pot. Add chicken, cover, and simmer until the chicken is tender, about 30 minutes.
Transfer to a serving bowl. Sprinkle with lemon peel and parsley and serve.
NOTES : This is kind of a winter dish, but really yummy and not too heavy. Serve with mashed potatoes, rice, or just some crusty bread and a green salad. If you like sweet potatoes, try having a boiled one in the bowl with the fricassee.
In Categories : ALL OLD Recipes • Poultry
Like this post? Subscribe to my RSS feed and get loads more!

Print This