Sunday, October 13th, 2013 at 7:56 am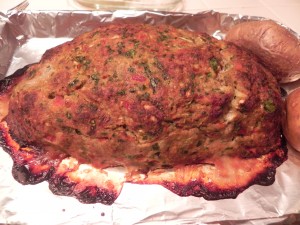 Serves 4-6
Total time 1hr 30min
Ingredients
1 & 1/2 pounds ground turkey
small yellow onion, chopped
1/2 cup bread crumbs, plain or seasoned
1 egg, beaten
1 cup grated parmesan
2 Tbs  Dijon mustard
1 cup flat leaf parsley, chopped
1 7oz jar roasted red peppers, cut into 1/2 sized pieces
salt and pepper
1.  Heat oven to 400 degrees
2.  Combine turkey, onion, bread crumbs, egg, parmesan, mustard, parsley, red peppers, 3/4 tsp. salt and 1/2 tsp. pepper in a large bowl.  Scrape the meat onto a sheet pan with short sides, (I  line the pan with foil). Shape into something resembling a loaf.  Optional:  I push 4 or 5 cherry tomatoes into the loaf–end to end–looks cute, and they taste pretty good as well.
3. Bake until no trace of pink remains. (165 degrees internal). About 45 min. (I bake it at 350 for an hour).  Transfer to a cutting board and let sit about 10 min. before slicing.
Ceci brought this recipe to Book Club and it was a big hit.  It's become one of my 'go to' recipes.  I've never thought a loaf pan was right for meat loaf, but if you like go ahead and use a loaf pan. Meat Loaf makes great sandwiches!

Print This