Saturday, December 4th, 2010 at 10:26 am
Serves : 4                       Preparation time : 5 Minutes
Ingredients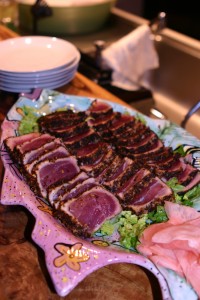 1   block of raw Ahi, Sashimi grade
Sesame oil
Volcano spice or equivalent ie Cajun Spice
napa cabbage, shredded
pickled ginger
Wasabi
soy sauce
Rub the Ahi Block with a few drops (use sparingly) of sesame oil. Roll the block in the spice, pressing the spice onto the block. Sear in a seasoned iron skillet at a very high temperature for 30 seconds per side. Now, if the block is thin, sear it for less time.
Refrigerate the block, it's easier to slice when chilled.
Presentation : Lay the thin slices of Ahi on a bed of shredded cabbage. Make a pile or two of pickled ginger on the same platter. Have a bowl of Wasabi mixed with soy on the side.
NOTES : Jon, our son, perfected this recipe when he lived with us on Maui in 1995-1996. It was nine months of great hikes, picnics, and entertaining. My mouth is watering just writing this recipe. We use a mild hot spice mix, but suit your own taste. Also, chili sauce that is sweet/hot is good with this recipe. Find it in the Oriental section of the grocery store, the same with wasabi. The Volcano Spice is made here on Maui, right in Haiku.
Recipe by : Jon McBride

Print This