Monday, December 6th, 2010 at 10:35 pm
Ingredients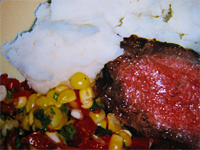 Have the fillet at room temperature. About 30 minutes to 1 hour before grilling, make a pile of the salt and garlic and pour the oil over that, to make a thick paste. Rub this mixture all over the beef. Grill to desired doneness. Let it stand covered with foil, loosely, for about 15 minutes, before slicing.
Slice and place on a platter
SQUEEZE THE JUICE OF ONE LEMON OVER THE MEAT BEFORE SERVING !!!!!
NOTES : Present this dish on a platter dressed with fresh watercress. Place Tomato wedges or slices around the edge of the platter.
Recipe by : Paul Slocum

Print This