BEAUMES-DE-VENISE CAKE WITH GRAPES
Monday, December 13th, 2010 at 5:55 pm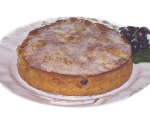 Serves : 8                       Preparation Time : 30 minutes
Ingredients
1 1/2 cups                        All purpose flour
1 teaspoon                       baking powder
1 teaspoon                       salt
1/4 teaspoon                   baking soda
3/4 cup                            sugar
6 tablespoons                 butter, at room temperature
3 tablespoons                 olive oil
2                                        large eggs
1 teaspoon                       lemon peel
1 teaspoon                       orange peel
1 teaspoon                       vanilla
1 cup                                 Muscat Wine (Beaumes-de-Venise)
1  1/2 cups                       red seedless grapes
2 tablespoons                 sugar
2 tablespoons                 butter
Preheat oven to 400 degrees.
Brush 10 " diameter springform pan with olive oil. Line the bottom of the pan with parchment paper, brush it with olive oil. Sift flour and baking powder, salt and baking soda into a bowl. Whisk 3/4 cup sugar, 6 tablespoons butter and 3 tablespoons olive oil in a large bowl until smooth. Whisk in both eggs, both peels, and the vanilla.
Add flour mixture alternately with wine, in 3 additions each, whisking just until smooth after each addition. Transfer batter to prepared pan, smooth the top. Sprinkle grapes over batter.
Bake cake until it is set (about 20minutes).
Dot top of cake with 2 tablespoons butter, sprinkle 2 tablespoons sugar over the top. Bake until golden and tester inserted into center comes out clean (about 20 minutes).
Cook in a pan, on a rack for 20 minutes. Release pan sides and serve slightly warm or at room temperature.
NOTES : This is very delicious and different. Strong flavor of the wine is complemented when the cake is served with whipped cream. I used an 8 inch springform pan and the batter puffed up covering the grapes. In the magazine photo, the grapes are showing on the top of the cake. I think the cake would bake well in an ordinary square pan if a springform pan is not available.
Serving Suggestion : Garnish with mint leaves and grapes, and whipped cream.
In Categories : ALL OLD Recipes • Cakes
Like this post? Subscribe to my RSS feed and get loads more!

Print This