ALMOND SABLES
Friday, July 9th, 2010 at 11:18 am
Ingredients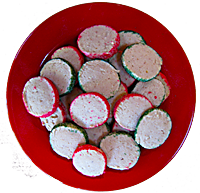 1/2 CUP                          sugar
+ 4  1/2 tablespoons      sugar
1/2 TSP                           table salt
3/4 CUP                          whole almonds
4 TSP                               pure vanilla extract
1/4 TSP                           pure almond extract
3 CUPS                            bleached all-purpose flour
1  1/2 CUPS                    butter, unsalted (3 sticks), cut in chunks and softened
1/4 CUP (or more)        turbinado (or granulated or raw) sugar
Process the sugar and the salt in a food processor until it looks powdery and a little finer, 40-60 seconds. Add the almonds and process until they're finely chopped, about 20 seconds.  Add the butter, vanilla and almond extracts. Pulse until the butter is smooth, scraping the sides of the bowl as necessary.  Add the flour and pulse until a soft ball forms around the blade.  Transfer the dough to a large bowl and stir briefly with a rubber spatula to be sure it's evenly mixed.  Portion the dough into equal thirds. If you have a scale, weigh each third; each should weigh 10-1/2 to 11 ounces.  On a lightly floured surface, shape the dough into a log about 6 inches long and 1-3/4 inches in diameter.  Wrap the log in waxed paper or foil or plastic wrap.  Chill the dough at least 2 hours but preferably overnight.
Put the 1/4 cup sugar on a flat surface such as a tray or clean counter top.  Roll the log of dough in the sugar, pressing so the sugar adheres.  Cut the log int 1/4- inch slices and arrange them at least 1 inch apart on an ungreased or foil lined cookie sheet.  Position a rack in the middle of the oven and heat to 350 degrees.  Let the cookies sit at room temp. while oven heats.  Bake until the edges are golden brown, 12-15 minutes, rotating the pan from front to back about halfway through the baking.  Let the cookies sit on the sheet for a minute or two before transferring to a rack with a metal spatula…Let cool completely before storing airtight.
NOTES : I use raw sugar
In Categories : ALL OLD Recipes • Cookies • Holiday Treats
Like this post? Subscribe to my RSS feed and get loads more!

Print This